Meet Our Reptile Team
With each event we have a professional team of reptiles that help to educate children to adults about the importance of reptile care, past decisions that have affected the future of these reptiles, diversity in the reptile world and most importantly how each reptile has their own unique personality that melts your heart to their individual situations.
Taz
Black and White Argentine Tegu
Taz is approximately a 6 year old male who is the sweetest and most loving big dude. Taz has had multiple surgeries but has come out stronger through it all.
Ollie
Iguana
Ollie is a 4 year old male who thinks he is the  boss. Ollie is independent and loves to tell you exactly how it is. He loves to eat his greens and has an attitude as big as his heart. 
Rhae
Bearded Dragon
Rhae is a bearded dragon with MBD and MD. She is a fighter and a survivor! She brings inspiration to all those who may live life a little differently due to their medical situations but still lives life full heartedly. She's a beloved sweetheart.  
Freddie
Iguana
Freddie is female Iguana with severe MBD. Her age is unknown and her gender was a surprise as her name shows. Freddie teaches others about the importance of calcium supplements and correct UVB lighting.
Tory
Black and White Argentine Tegu
Tory is an adorable year and a half old baby that loves to be carried around in his satchel bag. Tory is in good health and came to the rescue in need of his forever home. Tory teaches others that not all rescues have medical issues.
Lacey
Leachianus Gecko
Lacey is a two year old sweet leachie that loves to hide in your hair or sit on your shoulder under your shirt. She likes to talk to you as she has many different vocalizations – from squeaks and chirps or grunts, growls and barks.
Charlotte
Arizona Blonde Tarantula
Charlotte is 3 years old.  Charlotte – Arizona Blonde Tarantula – about 3 years old – she came to us missing a leg and is continuing to regrow that leg. Each time she molts it gets a little bit bigger.
Luna
Eight Ball Ball Python
Luna is the most adorable and sweetest ball python who is loved by everyone. Luna teaches others how imperfections to some can be perfection to others!
Mushu
Savanah Monitor
Mushu is about 6 years old and severely stunted due to improper care when he was young. He should be about 4-5 feet long for his age. Mushu is a happy guy who really enjoys hanging out and being held. He is the ultimate couch potato when he is indoors, but put him in the grass on a warm sunny day and he explores all of the sights and smells!
Oasis
Pastel pied ball python.
Oasis is a 3 yr old pastel pied ball python. He enjoys neck snuggles and is good at giving mini neck massages.
Barry
Banana Ball Python
Barry is a 2 yr old banana ball python. When Barry came to the rescue he was so calm and relaxed that we knew instantly he would be a huge hit at our meet and greet events. He is a very easy snake to hold and has become a great ambassador for those who are a bit timid at first.
Jasper
Champagne Leopard Pastel Paradox Ball Python
8 Months old. Jasper is a stubborn baby. He really wants to be doted on but very sweet when held. His favorite drink is Champagne though he has never had any.
Charlie
Nile Monitor
Charlie is a sassy boy. Once you pick him up you can't put him down. He has high hopes of traveling the world from the top of your head.
Lyla
Tangerine Leopard Gecko
Lyla is a 4 year old tangerine leopard gecko. She was our very first leopard gecko rescue and has been with us since the beginning. Don't let her evil plotting smirk fool you….she is very sweet!
Lane
Leopard Gecko
Lane's tale was cut off accidentally during shipping and he soon found his way to the Reptile Invasion to heal.  Don't worry about him though it's still growing back in nicely! He is about 1 year old – pretty calm dude who likes to be held and will show off by "smiling" and opening his mouth wide.
Dexter
Banana Pied Bald Python
Dexter is a chill, cool guy. He likes to explore. Imagine little arms and sunglasses on him and that's Dexter. 
Rachel
Purple Tiger Albino Reticulated Python
  Rachel is a one and a half year old girl. She 's a little skittish and head sensitive. Her favorite color is lavender. 
Taco
Arizona Mountain Kingsnake
Taco is not quite a year old. He came to us because his family was moving and unfortunately could not take him along. Taco tends to be a crowd favorite. He is lively little fellow and fun to hold as he weaves in and out of your fingers.
Nelson
Albino Milksnake
Nelson is approximately 3-4 years old. He is a very curious snake who loves to hide in your shirt or climb in your hair. Nelson dreams of being a living hair accessory someday.  
Cassie
Jungle Carpet Python
Cassie is a 2-3 Year old. She is sweet at heart, likes hugs and longs slithers on the beach. 
Francesca
Frost Western Hognose
One and a half years old. She thinks she is a cobra but at the same time is super sweet. 
Tiny
Lavender Tiger Reticulated Python
Tiny is a five year old 12.5 foot long male that has been working with Reptile Invasion since 2019. He came to the rescue with terrible mouth rot that has now been healed. He teaches others about the importance of vet care. 
Phoenix
Super Fire Ball Python
Phoenix is a Superfire ball python who is a little over a year old. She is a calm little gal who is easy to hold and overcome any fears of snakes
Electra
Albino Python
Electra is a 2 year old albino ball python. She came to the rescue when she was about 6 months old. She is a great little ball who lives up to her species, as her favorite thing is to ball up in your lap.
Tesla
Black and White Argentine Tegu
Tesla is a 3-4 year old Black and White Argentine Tegu. Tesla was found abandoned in an apartment along with a few snakes. He was only about 8 months old when he came to us after his traumatic experience. Tesla is still going through "guberty" or tegu puberty and has days when he is very opinionated about who can handle him.
Delilah
Hypo Red Tail Boa
Delilah approximately 8 years old and 10 pounds.
Belle
Red Tailed Boa
Belle is approximately 8 years old, 10 feet long and a whopping 75 pounds!
Spike
Bearded Dragon
Spike is approximately 3-4 years old. He does what he wants all the time! He definitely has an independent attitude that is very loveable. 
Tom
Hypo-Melanistic Bearded Dragon
Tom is a one year old bearded dragon. Tom loves to show his beard not because he's mad or scared but because he is very proud of his beard.
Bo
Normal Bearded Dragon
Bo is our 5 yr old dragon….he is super social and will hang out and chill with anyone willing to hold him. He likes interaction….I can walk into his room and call his name and he will snap his head in my direction to see who is calling him. 
Xena
Zero Bearded Dragon
 Xena is a 3 yr old dragon. Xena likes to hang out with her other dragon friends at shows, but can be very spirited and loves to run all over the table during our educational presentations.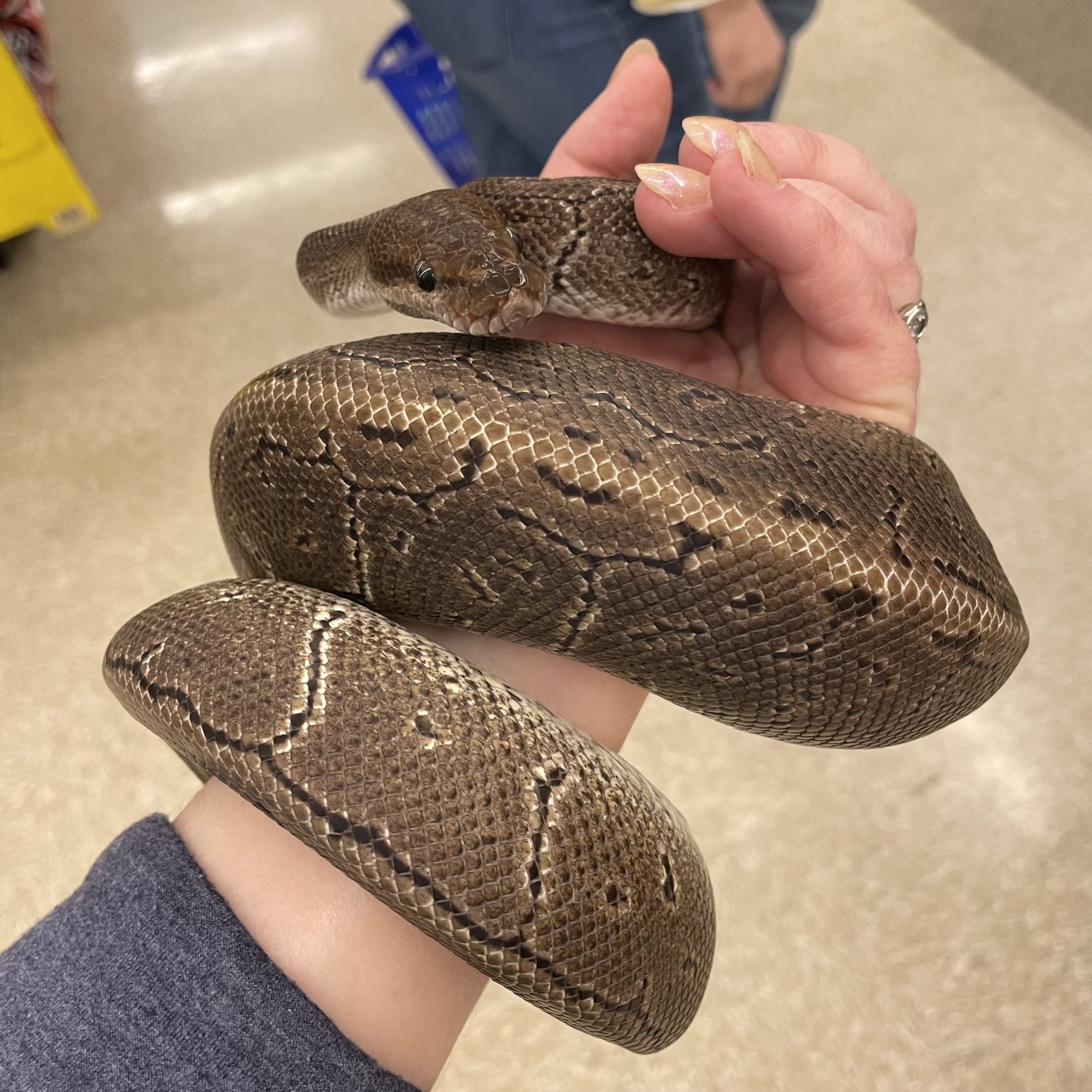 Cinnamon
Pinstripe Ball Python
Cinnoman is a chocolate pinstripe ball python who is about 3 years old. She is happy to hang around your neck  or curl up in your lap. 
Frank
Madagascar Hognose
Frank is around 5 yrs old and a Madagascar Hognose. Dylan is his favorite volunteer and he loves chin rubs. His belly feels unlike any other snake and is smooth as glass.
Opal
Cornsnake
Opal is almost 2 years old. She is a giant helper at Children's event as she is our professional snake painter!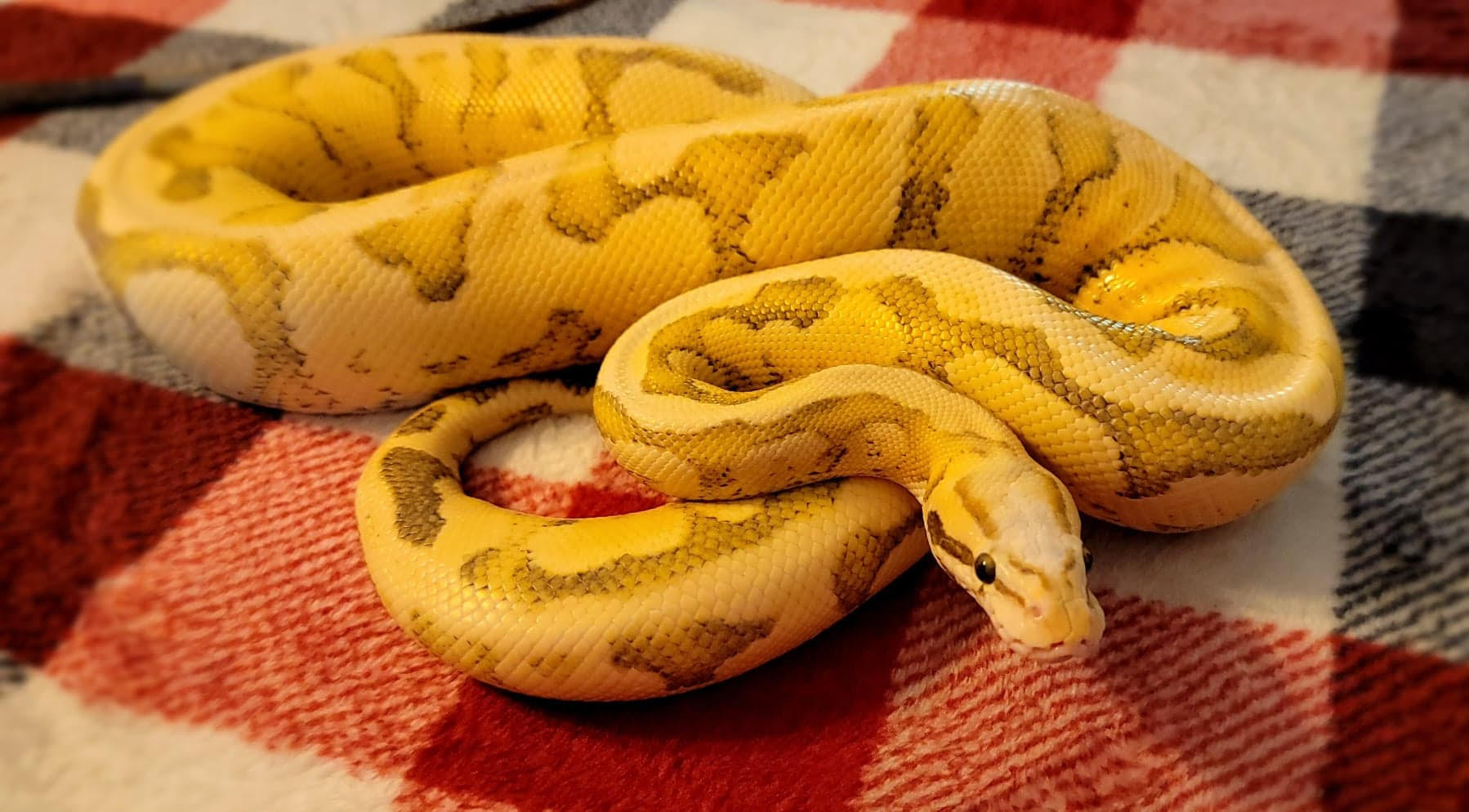 Pecan
Vanilla Scream Python
Pecon is about three years old. He is really chill and likes to be held.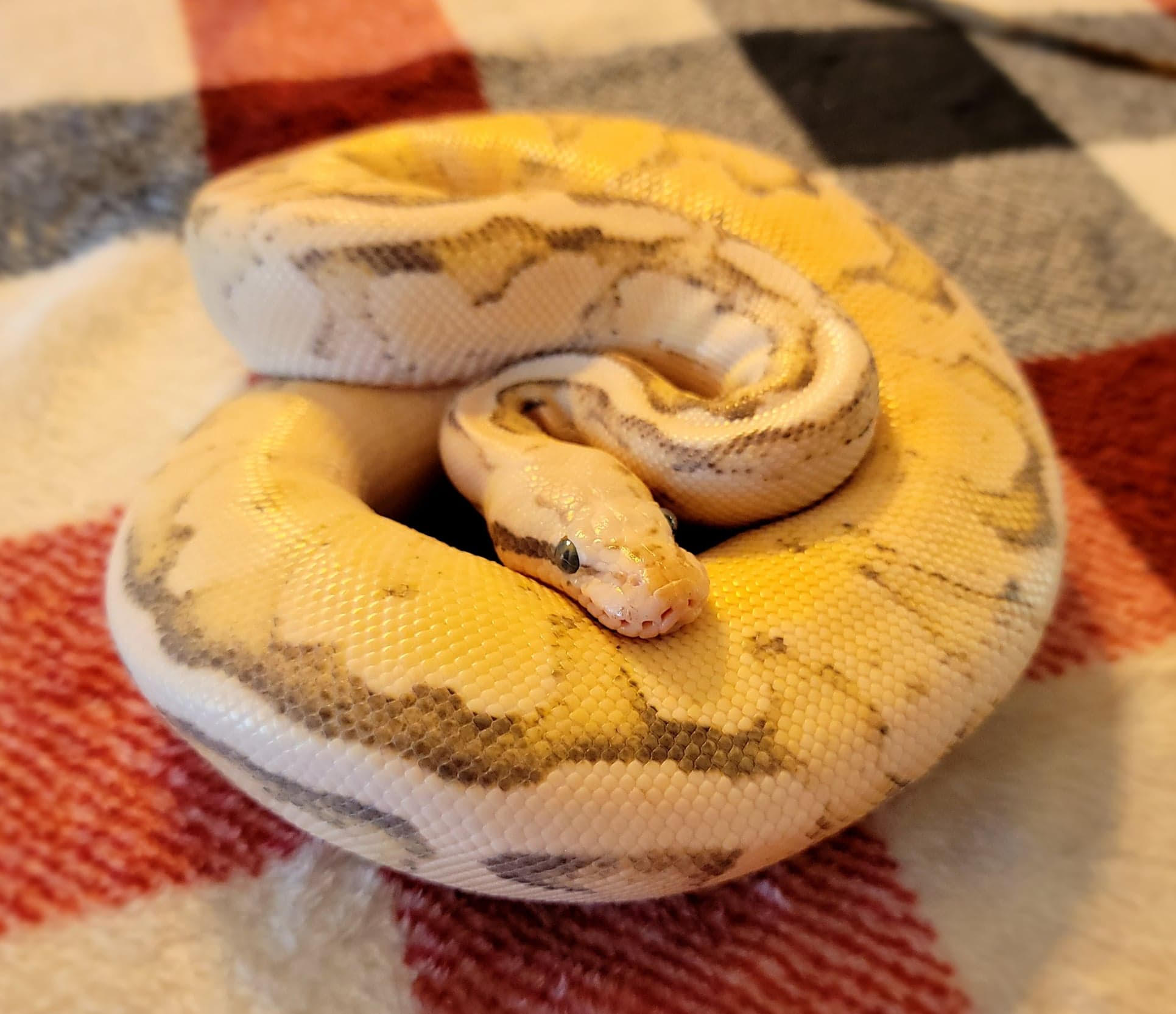 Butter
Snake
Butter is shy and head sensitive. She is beautiful and works well with children. She is around 3 years old.
Maddie
Python
Maddie is an 8 year old ball python. She came to our rescue from a family who could no longer care for her. She is actually the mother of Jasper one of our youngest ball pythons.
Vanna
Python
Vanna is a piebald ball python. When she came to our rescue, we initially thought she was a boy until she unexpectedly laid eggs!
Bonnie
Burmese Python
Bonnie is a 10 year old full grown burmese python. She is almost 14 feet and about 110 pounds! She was surrendered with Clyde our albino burmese python. They sadly were being housed together and Clyde was much smaller than Bonnie so he is very lucky she didn't get angry and eat him. This is why we named them Bonnie and Clyde because they must be partners in crime!
Lucky
Lechianous Gecko
Lucky is a 1 -1.5 year old leachianus gecko. He came to the rescue very thin and malnourished. He is gradually gaining weight and enjoying living his best life!
Mimzy
Bearded Dragon
Mimzy is about 3 years old. She recently had a spay surgery to help with an egg that ruptured about 8-12 months ago and adheared to her internal organs. This girl has defeated soo many odds! She is a survivor through and through!
Oscar
American Alligator
Oscar is a year and a half old American Alligator. He is owned by one of our volunteers but frequents many of our educational outreaches.
Axle
Hognose
Axle was hatched in September of 2021 and is owned by one of our volunteers and often frequents many of our educational outreaches. 
Luna
Python
Luna is about 4 years old. She is owned by one of our volunteers and often frequents many of our educational outreaches.
River
Red Tegu
River is about 2½ years old. He's a bulldozer and loves to dig and try to break out of his enclosure. He likes getting jowl scritches from his Mummy. His favorite thing to do while at events is to grin at people and do death rolls.
Sage
Savanah Monitor
Sage is 4 years old. He is spoiled and won't potty in his house or drink standing water. He has trained his hoomans to take him outside to do his business and he'll only drink water offered by hand. His favorite food is quail. Sage is owned by two of our volunteers and often frequents many of our outreach events.
Pebbles
Red Tegu
Pebbles is about 3 years old is owned by one of our volunteers. He often frequents many of our educational outreaches.
Cassandra
Columbia Boa
Cassandra is a 4 year old Colombian Boa Constrictor. She was surrendered to Reptile Invasion when she was 2½ and was given her forever home by two of our volunteers. She loves giving hugs to the warm trees in her life (also known as people). She also loves chin scratches and head pets, which has given her the title of "Lap Cat" to her humans.
Lenny
Leatherback Bearded Dragon
Lenny is approximately 3 years old and is a rescue from Reptile Invasion. Lenny loves children, flamingos and smiling! She frequents many of our educational outreaches.
Dave
Sulcata Tortise
Dave is named after the Dave Matthews Band. While he is a baby now he will live up to 100 years and weigh up to 100 pounds! So this little guy us a lifelong commintement and huge responsibility. We are so happy to have him as at our events!
Reptile Volunteers to Come
All Welcome
Come meet awesome people and teach others about this incredible community. 
Reptile Volunteers to Come
All Welcome
Come meet awesome people and teach others about this incredible community. 
Reptile Volunteers to Come
All Welcome
Come meet awesome people and teach others about this incredible community. 
Now that you have met the team online, see us in person! Book an event or come to one of our educational events!
We'd love to meet you!